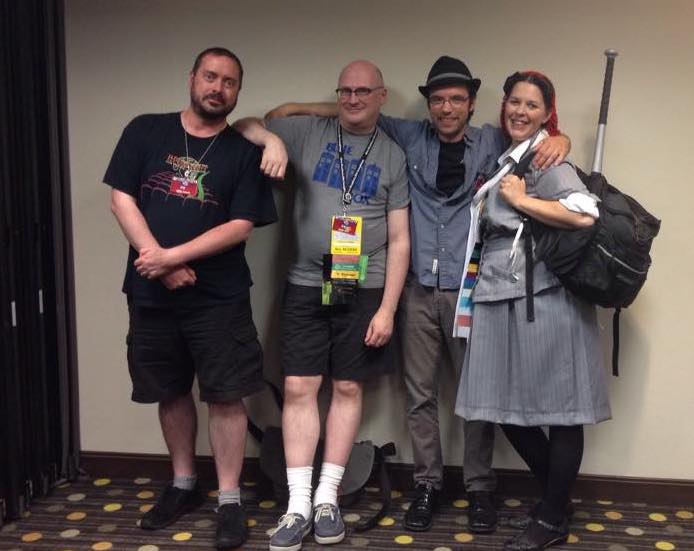 JOSHUA ENGLISH SCRIMSHAW: Joshua started watching Doctor Who in 1985 during Colin Baker's first season as The Doctor. This explains his unconditional love of all things season 22, including acid baths, Bandrils and land mines that turn you into rubber trees. In addition to being a geek, Joshua is also "a clever and inventive voice in Twin Cities comedy" (Minneapolis Star Tribune) and the co-founder of Comedy Suitcase, a Twin Cities-based theatrical comedy company dedicated to creating comedy for all ages. Because he hates free time, Joshua is also the co-founder of the physical theater company English Scrimshaw Theatrical Novelties. City Pages named English Scrimshaw Theatrical Novelties' debut production Shut Your Joke Hole one of the top ten local theater productions of the year and mnartists.org calls Joshua "a modern day Buster Keaton." When not prattling on about Doctor Who, Joshua can be heard prattling on about old-time radio on his other podcast The Mysterious Old Radio Listening Society.
KELVIN HATLE is an actor, improviser, and writer who has been a fan of Doctor Who ever since he first struggled to make out the snowy image of a Silurian on Iowa Public Television. He's been in numerous productions around the Minneapolis area, working with Stevie Ray's Comedy Theater, Hardcover Theater, Box Wine Theater, Comedy Suitcase, Fearless Productions, HUGE Theater, and others. If it was funny and nerdy, odds are good he was in it. His one-man shows Death Perception, Someone Is Wrong on the Internet, and The Press Conference at the End of the World were warmly received as part of the Minnesota Fringe Festival. He has also been a panelist and performer at CONvergence for every year of its existence, as befits a lifelong fan of fantasy and science fiction with a raging need for attention.
PAT HARRIGAN is a writer and editor. He is the co-editor of several MIT Press collections on games and new media, including  Zones of Control: Perspectives on Wargaming (2016), with Matthew Kirschenbaum, and the series First Person, Second Person and Third Person, with Noah Wardrip-Fruin. He also performs readings and original spoken-word pieces at the Not-So Silent Planet cabaret, American Civic Forum, and the Encyclopedia Show, among other places; most of this work is available in the two collections The Lecture Tour and On Tour Forever. He is a former marketing director and creative developer for Fantasy Flight Games, and co-edited FFG's The Art of H.P. Lovecraft's Cthulhu Mythos (2006), with Brian Wood. He has also written a novel, Lost Clusters (2005), and a collection of short stories, Thin Times and Thin Places (2012). He is a longtime Doctor Who fan and one of these days he'll write that story where the Pertwee Doctor meets Chairman Mao.
During the day, ARIEL PINKERTON (formerly Ariel Leaf) is a baker at the worker-run Hard Times Cafe. At night she is a freelance actress, lighting designer, director, playwright and overall theatrical ne'er-do-well. She is a company member of Freshwater Theatre, the co-artistic director of Fortune's Fool, and the sole proprietor of Mermaid Productions. A Whovian since she was 7, she is also a dice roller, board game player and chess fanatic.
ANTHONY KARNA (sound guy!) aimed his family's rooftop antenna to a different PBS station one Saturday night in rural Minnesota. He saw a thin blond Brit wearing a beige suit, who was followed by some freaky guy covered in rotten black lettuce and who hid inside a grandfather clock. He decided that he liked it but had no idea why. Since then, he has worked in theater and audio-video production to gain useful real-life skills.