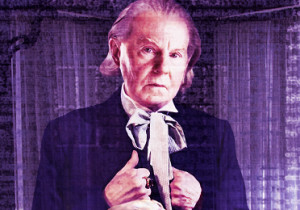 In Episode 22: Doctor Who, You Utter Bastard!, the boys are joined by Get Off My World sound engineer Tony Karna for five rollicking rounds of Doctor Who banter! The guys ruminate on the podcast's one-year anniversary, Tony bypasses the Randomizer to discuss the 1980 Tom Baker adventure The Keeper of Traken, Pat unveils a brand new round called Trivia of the Exxilons, and finally, battle lines are drawn as the boys fiercely debate which is the superior anniversary story – the 40th anniversary Big Finish audio story Deadline by Rob Shearman or the 50th anniversary TV movie An Adventure in Space and Time by Mark Gatiss.
Show Notes and Other Tidbits
– The picture at the top of this page is from an alternate Deadline cover by Hisi79. Check out his other awesome Big Finish covers too.
– Download Deadline by Rob Shearman for only five lousy bucks at bigfinish.com!
– Read Lawrence Miles' epic take down of An Adventure In Space and Time here.
In all fairness, here are a few take downs of Deadline (mixed with several glowing reviews) from The Doctor Who Ratings Guide.
Podcast: Play in new window | Download
Subscribe: Apple Podcasts | RSS